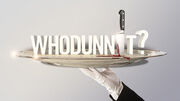 Whodunnit? is a murder mystery reality television show broadcast on ABC. RHAP covered its only season, with podcasts from Rob Cesternino and Curt Clark.
The host of the show was Gildart Jackson, who played the role of the mansions butler, Giles.
List of Podcasts and Guests
Edit
NOTE: Rob Cesternino and Curt Clark appeared on every podcast.
June 24, 2013 - Trying to Solve the Mystery that is ABC's 'Whodunnit?'
July 1, 2013 - 'Whodunnit?' Episode 2: How Dantae Got Fired
July 8, 2013 - Whodunnit Ep #3: How Adrianna's Murder Was the Bomb
July 16, 2013 - Whodunnit Episode 4: Did Don Get Cat Scratch Fever?
July 22, 2013 - Whodunnit Episode 5: How Ulysses Got Off His High Horse
July 29, 2013 - Talking Whodunnit with the Latest Victim of 'The Killer': Geno Walker
August 5, 2013 - Monkeying Around with the Latest Episode of Whodunnit
August 14, 2013 - Ice, Ice Ronnie: Recapping the Whodunnit Final Four
August 19, 2013 - Recapping a Very Strange Season Finale of 'Whodunnit?'
August 20, 2013 - The 'Whodunnit?' LIVE Reunion Show with the Final Five: Kam Perez, Cris Crotz, Lindsey Anderson, Melina Alves, Ronnie Padron
Other Facts
Edit
Giles, the butler/host of the show, had a propensity toward drawing out the way he pronounced the contestants name, particularly "Lindddsaaayyyy!"
References
Edit
External Links
Edit