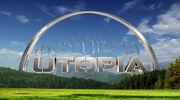 Utopia was a reality show that ran for a brief amount of time on Fox. The premise of the show was a group of people living on a compound together, building a society from scratch. Viewers could buy live feeds to watch at all hours or even visit the set in person. Rob Cesternino and Curt Clark covered the show from the premiere through its premature cancellation shortly into the first season.
List of Podcasts and Guests
Edit
NOTE: Rob Cesternino and Curt Clark appeared on every episode of the podcast except for Wedding recap on which Curt was absent.
September 8, 2014 - Utopia Series Premiere Review of Fox's Pioneering New Show
September 13, 2014 - Utopia 2014: Recap of Nights 2 & 3 of Premiere Week
September 23, 2014 - Utopia 2014: Recap of The Utopia Experience in Episode 6
September 28, 2014 - Utopia 2014: Recap of the New Format Changes & Arrival of Ernesto
October 14, 2014 - Utopia 2014: Week 5 Recap | Katie vs. Cal Moving in
October 20, 2014 - Utopia 2014: Recap of the Utopia Wedding with Mario Lanza: Mario Lanza
November 1, 2014 - Utopia 2014: A Very Utopia Halloween Recap
November 10, 2014 - Utopia Postmortem: What Worked & Didn't Work on the Cancelled Fox Series
References
Edit
External Links
Edit