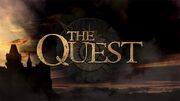 The Quest was a fantasy-based reality competition that aired for one season on ABC. Rob covered the show with a series of podcasts during the show's run with RHAP Tabulator Curt Clark, in addition to an exclusive interview with some of the show's producers.
Podcasts list with Guests
Edit
NOTE: Rob Cesternino appeared on every podcast except for the episode 3 recap. Curt Clark appeared on every episode recap podcast except for episode 1.
August 1, 2014 - The Quest: Series Premiere Review and First Episode Recap: Jessica Liese
August 8, 2014 - The Quest: Episode 2 Recap | Tournament of the Queen
August 13, 2014 - The Quest: Executive Producers Talk Behind the Scenes of Everrealm: Rob Eric, Jane Fleming, Mark Ordesky
August 14, 2014 - The Quest: Episode 3 Recap | Save the Queen: Jessica Liese
August 22, 2014 - The Quest: Episode 4 Recap with Zach Storch from King of the Nerds: Zach Storch
August 30, 2014 - The Quest: Recap of Thursday's Double Dose of Everealm
September 6, 2014 - The Quest: Verlox Attacks in the Episode 7 & 8 Recap
September 13, 2014 - The Quest Finale Recap: The One True Hero Defeats Verlox
References
Edit
External Links
Edit
Ad blocker interference detected!
Wikia is a free-to-use site that makes money from advertising. We have a modified experience for viewers using ad blockers

Wikia is not accessible if you've made further modifications. Remove the custom ad blocker rule(s) and the page will load as expected.