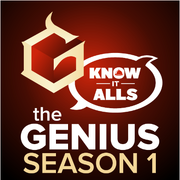 The Genius Know-It-Alls is an audiobook series from Rob Cesternino and Stephen Fishbach. It gives episodic discussions of the Korean reality show The Genius.
The Genius Know-It-Alls had the first section, covering season 1, premiere in the RHAP store on December 18, 2016. A sample podcast of coverage of the first episode was released for free in the main podcast feed on the same day.[1]
Description
Edit
The Genius Know-It-Alls takes an in-depth episodic look into the South Korean reality show The Genius. It runs in a similar format to the Survivor Know-it-Alls podcast, as Rob and Stephen break down each episode from a strategic perspective. Additionally, Stephen gives his famous "Fishy" award for the best strategist of each episode. Like The Evolution of Strategy, Rob also created feedback pages for each chapter for listeners to post their thoughts and questions.
Other Facts
Edit
Aaron Robertson, RHAP songwriter and current Korean citizen, translated and performed a version of the Survivor Know-it-Alls theme in Korean, which opens every chapter.
References
Edit
External Links
Edit
Ad blocker interference detected!
Wikia is a free-to-use site that makes money from advertising. We have a modified experience for viewers using ad blockers

Wikia is not accessible if you've made further modifications. Remove the custom ad blocker rule(s) and the page will load as expected.