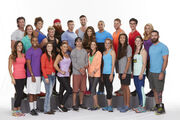 The Amazing Race 29 is the twenty-ninth installment of the reality television show The Amazing Race and the eleventh season covered by RHAP. Unlike previous seasons, which featured at least some teams with preexisting relationships, this edition will feature 22 contestants who are all complete strangers; they will meet for the first time and form eleven teams of two at the starting line. These teams will then compete in a race around the world for a US$1 million grand prize.[1]
Description
Edit
After the previous season, The Amazing Race was shelved for a midseason premiere, with the success of MacGyver on Friday nights. Initially scheduled for a two-hour premiere on April 21, 2017, the show got bumped up nearly a month due to the low ratings of Training Day, premiering instead on March 30 in the time slot of Thursday night at 10:00 p.m.
Jessica Liese, after not appearing on a podcast since she took her maternity leave at the end of the summer, returned to cover the show with Rob Cesternino. Before the season, she did a draft of the singular players with frequent guests Mike Bloom and Dan Heaton. Rob and Jess recorded non-live recaps after every episode, and elected not to do exit interviews for the racers. The podcasts also moved to Reality TV RHAP-Ups in order to not clog the main Rob Has a Podcast feed with non-Survivor content, a move which was also done to coverage of Big Brother Canada 5.
List of Podcasts and Guests
Edit
NOTE: Rob Cesternino appeared on every podcast except for the cast preview and the Episode 8 recap. Jessica Liese appeared on every podcast except for the Episodes 4 & 5 recap.
March 27, 2017 - Cast Preview: Mike Bloom, Dan Heaton
March 30, 2017 - Season Premiere Recap
April 7, 2017 - Episode 2 Recap
April 14, 2017 - Episode 3 Recap
April 21, 2017 - Episodes 4 & 5 Recap: Mike Bloom
April 28, 2017 - Episode 6 Recap
May 5, 2017 - Episode 7 Recap
May 12, 2017 -Episode 8 Recap: Mike Bloom, Dan Heaton
May 19, 2017 - Episodes 9 & 10 Recap
May 26, 2017 - Episode 11 Recap
June 2, 2017 - Amazing Race 29 Finale Recap
June 5, 2017 - Winners Interview | Brooke Camhi & Scott Flanary: Brooke Camhi, Scott Flanary
References
Edit
Ad blocker interference detected!
Wikia is a free-to-use site that makes money from advertising. We have a modified experience for viewers using ad blockers

Wikia is not accessible if you've made further modifications. Remove the custom ad blocker rule(s) and the page will load as expected.