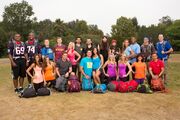 The Amazing Race 23 is the twenty-third episode of the CBS reality show The Amazing Race, and the fifth season to be covered by RHAP.
Description
Edit
Like the previous couple of seasons, Rob was joined exclusively by correspondent Jessica Liese, who also blogged about the season. For the first time, the weekly podcast also featured a previous racer or team as a special guest. The guests ranged from early seasons (Uchenna Agu from seasons 7 and 11) to more recent (Max Bilcher, Katie Bilcher, and Bates Battaglia from The Amazing Race 22, and even included an international team in Brett and Holly from The Amazing Race Canada. The time was then divided between discussion of the most recent episode and stories from the racers' respective season(s).
List of Podcasts and Guests
Edit
Note: Rob Cesternino appeared on every podcast of the season except for Episode 1. Jessica Liese appeared on every podcast of the season.
Pre-Season - Amazing Race 23 Season Preview and Cast Assessment (September 23, 2013)
Episode 1 - The Amazing Race Premiere Recap with Jessica Liese, and Two Time Racers Zev & Justin (September 30, 2013): Zev Glassenberg, Justin Kanew
Episode 2 - Amazing Race 23 Episode 2 Recap with Brook & Claire (October 7, 2013): Brook Roberts, Claire Champlin
Episode 3 - Max and Katie Bichler Recap Amazing Race 23 Episode 3 (October 14, 2013): Max Bichler, Katie Bichelor
Episode 4 - Oh my Cod! Its An Amazing Race 23 Recap with Jessica Liese (October 21, 2013)
Episode 5 - LIVE Amazing Race Recap with Uchenna at 10:15 pm ET (October 28, 2013): Uchenna Agu
Episode 6 - Choir Learning: Rob & Jessica Recap The Latest Amazing Race (November 4, 2013)
Episode 7 - Danz Danz Revolution: Ryan Danz on the Latest Amazing Race (November 11, 2013): Ryan Danz
Episode 8 - Bates Battaglia Recaps the Latest Episode of The Amazing Race (November 17, 2013): Bates Battaglia
Episode 9 - Amazing Race 23 Ep #9 Recap with Brett & Holly from TAR Canada (November 25, 2013): Holly Agostino, Brett Burstein
Episode 10 - The Amazing Race 23 Episode 10 Recap is Never a DRAG (December 1, 2013)
Episode 11 (Finale) - Rob & Jessica LIVE Recap The Amazing Race 23 Finale (December 9, 2013)
Other Facts
Edit
Both Rob and Jessica Liese had significant interactions with teams from this season. Jessica was invited to winning team Jason and Amy's finale viewing party in Providence, Rhode Island, where she met several contestants from this season. After attending the afterparty for the finale of Survivor: Blood vs. Water, Rob met Jason and Amy as well in a bar. He was then taken out to their limo, where he got to meet and chat briefly with several other teams from the season.
References
Edit
External Links
Edit