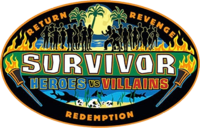 Survivor: Heroes vs. Villains was the 20th season Survivor and the first season of coverage for RHAP. The season featured 20 returning contestants split into teams of heroes and villains. It aired from February to May 2010 and was won by the first two-time winner Sandra Diaz-Twine.
This season began airing shortly after the Survivor 10-year reunion which reinvigorated Rob's interest in the show. This first season of the podcast is very different than later seasons. Many of the early episodes feature coverage of more than one show. In the first few episodes, Survivor, Lost, and Jersey Shore were all covered in one podcast.
List of Podcasts and Guests
Edit
NOTES: Rob Cesternino has appeared on every podcast of the season, also since these are pre-marriage, Nicole is referenced by her maiden name, Palmeri.
Episode 1
Edit
Episode 2
Edit
| | February 19, 2010 |
| --- | --- |
| Co-host: Nicole Cesternino | |
| Trivia:  This podcast covers Lost in addition to Survivor. | |
Episode 3
Edit
Episode 4
Edit
March 5, 2010

Co-host: Nicole Cesternino Guest: Jenna Morasca & Ethan Zohn
Intro: Coming to you live from my apartment, its Rob has a Podcast, and now here's the guy that just wants to podcast ya'll!
Trivia:  This is the first podcast to use the now-standard intro.

Jenna is the first winner to appear on the podcast.
Episode 5
Edit
| | March 12, 2010 |
| --- | --- |
| Co-host: Nicole Cesternino Guest: Yau-Man Chan & Mario Lanza | |
| Intro: Coming to you live from my apartment, its Rob has a Podcast, and now here's the guy that gets to keep all of his carry-on luggage and jacket even when he flies on US Airways. | |
| Trivia: | |
| | March 19, 2010 |
| --- | --- |
| Co-host: Nicole Cesternino | |
| Intro: Coming to you live from my apartment, its Rob has a Podcast, and now here's the guy who's never been caught cheating on Sandra Bullock. | |
| Trivia: | |
Episode 6
Edit
| | March 25, 2010 |
| --- | --- |
| Co-host: Nicole Cesternino Guest: Todd Herzog & Coby Archa | |
| Intro: Coming to you live from my apartment, its Rob has a Podcast, and now here's the guy who has been mistaken for superman in a fat suit on one occasion. | |
| Trivia:  At the time, this was considered a long podcast at 1:40. | |
Episode 7
Edit
| | April 2, 2010 |
| --- | --- |
| Co-host: Nicole Cesternino Guest: Lex Van Den Berghe | |
| Intro: Coming to you live from my apartment, its Rob has a Podcast, and now here's the guy who's never been called the little man--outside of the bedroom. | |
| Trivia: Lex was chosen as the guest for this podcast because of Boston Rob's elimination. | |
Episode 8
Edit
| | April 9, 2010 |
| --- | --- |
| Co-host: Nicole Cesternino Guest: Stephen Fishbach | |
| Intro: Coming to you live from my apartment, its Rob has a Podcast, and now here's the guy who's been known to drop more than just his expectations. | |
| Trivia: This is Stephen Fishbach's first appearance on the podcast. | |
Episode 9
Edit
| | April 16, 2010 |
| --- | --- |
| Co-host: Nicole Cesternino Guest: Jonathan Penner | |
| Intro: Coming to you live from my apartment, its Rob has a Podcast, and now here's the guy who's spent 100 days of his life doing Survivor--Podcasts. | |
| Trivia: This is Jonathan Penner's first appearance on the podcast. | |
Episode 10
Edit
| | April 23, 2010 |
| --- | --- |
| Co-host: Nicole Cesternino Guest: Richard Hatch | |
| Intro: Coming to you live from my apartment, its Rob has a Podcast, and now here's the guy who doesn't know the difference between a plantain and a banana. | |
| Trivia: This is Richard Hatch's first appearance on the podcast | |
Episode 11
Edit
| | May 1, 2010 |
| --- | --- |
| Co-host: Nicole Cesternino Guest: Eliza Orlins | |
| Intro: Coming to you live from my apartment, its Rob has a Podcast, and now here's the guy who just moved Treasure Island up to the top of his Netflix queue. | |
| Trivia:  | |
Episode 12
Edit
| | May 8, 2010 |
| --- | --- |
| Co-host: Nicole Cesternino Guest: Ken Hoang & Billy Garcia | |
| Intro: Coming to you live from my apartment, its Rob has a Podcast, and now here's the guy who is always looking for the burning bush. | |
| Trivia:  | |
Episode 13
Edit
Episode 14
Edit
| | May 17, 2010 |
| --- | --- |
| Co-host: Nicole Cesternino | |
| Intro: Coming to you live and really live from our apartment, its Rob has a Podcast, and now here's the guy who spent $200 on a Russell Hantz authentic hat from Ebay that apparently wasn't real. | |
| Trivia:  This is the first live podcast. | |
Post-Season Interviews
Edit
| | June 8, 2010 |
| --- | --- |
| Co-host: Nicole Cesternino Guest: Randy Bailey | |
| Intro: Coming to you live from my apartment, its Rob has a Podcast, and now here's the guy who's devastated over the Spencer and Heidi breakup. | |
| Trivia:  | |
| | June 14, 2010 |
| --- | --- |
| Co-host: Nicole Cesternino Guest: Sandra Diaz-Twine | |
| Intro: Coming to you live from my apartment, its Rob has a Podcast, and now here's the guy who's a zero-time winner of Survivor. | |
| Trivia:  | |
Other Facts
Edit
References
Edit
External Links
Edit