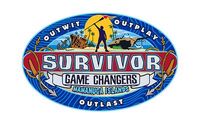 Survivor: Game Changers - Mamanuca Islands is the 34th season of Survivor and the fifteenth season of coverage for RHAP, featuring 20 returning castaways. It is the fourth season to feature entirely returning players, with each player coming back to the show for their "game changing" contributions in their previous appearances.
Description
Edit
Coverage of Game Changers began in January 2017. Due to the cast of entirely returning players, Rob held an application process to find "experts" for each of the players. Those experts then appeared on the podcast with Rob to dissect their player's previous Survivor and RHAP appearances. These podcasts dropped after the official cast announcement, along with the typical pre-season fare, and a first: a draft among Rob and several members of the RHAP community of the players.
List of Podcasts and Guests
Edit
Game Changer Experts
Edit
February 10, 2017 - Cast Preview #1: Zeke Smith & Hali Ford: Adam Rida, Will Seamon
February 12, 2017 - Cast Preview #2: Cirie Fields and Jeff Varner: Liana Boraas, Dustin West
February 14, 2017  - Cast Preview #3: All About Tony Vlachos: Jon Krause, Jordan Kalish
February 16, 2017 -  Cast Preview #4: Aubry Bracco & Troyzan Robertson: Jessica Z, Derreck Blaise 
February 19, 2017 - Cast Preview #5: Ozzy Lusth & Debbie Wanner: Tyler Kakuno, Shannon Gaitz
February 21, 2017 -  Cast Preview #6: Malcolm Freberg & Sarah Lacina: Pooya Zand Vasili, Lindsay Wilson 
February 23, 2017 - Game Changer Cast Preview #7: JT Thomas & Sierra Dawn-Thomas: Lindsey Hresko, Thomas Tumillo
Pre-Season
Edit
February 9, 2017 - Everything You Need to Know About the Survivor Game Changers Cast: Josh Wigler
February 10, 2017 - The RHAP Pre-Season Draft of Survivor Game Changers: Shirin Oskooi, Akiva Wienerkur, Sarah Channon
February 23, 2017 - Erin Cebula on ET Canada's Game Changers Coverage & Gillain Larson on Reality Rally 2017: Erin Cebula, Gillian Larson
Bloggers for this Season
Edit
Other Facts
Edit
References
Edit
External Links
Edit
Ad blocker interference detected!
Wikia is a free-to-use site that makes money from advertising. We have a modified experience for viewers using ad blockers

Wikia is not accessible if you've made further modifications. Remove the custom ad blocker rule(s) and the page will load as expected.