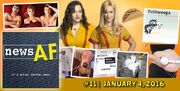 "The Spyson Hour" was made to recap Marriage Boot Camp but was then picked up by again by Rob Cesternino to continue the series. The podcast featured Rob Cesternino, Tyson Apostol and Spencer Pratt, with occassional cameos by Tyson's daughter Bergen and Rachel Foulger and Heidi Montag. When Spencer Pratt chose to move on to other projects, this show morphed into "News AF" with Rob, Tyson Apostol, and Danny Bryson.
History and Description
Edit
"The Spyson Hour" initially functioned as a way to recap Tyson (an RHAP mainstay) and Spencer's appearances on Marriage Boot Camp: Reality Stars 2. Early episodes started as a pure recap of the past week's events, along with behind-the-scenes stories. As the podcast went on, the show began to include off-topic discussion, specifically about Spencer's various stories from his past as a reality TV star. Following the Marriage Boot Camp season finale, the podcast decided to continue, with a focus on current news items and what had been going on in the podcasters' respective lives that past week (though Rob still tried to incorporate some discussion on the next season of Marriage Boot Camp).
The show ran with this format until October 2015, when Spencer chose to leave the show. Following his departure, Tyson and Rob continued to podcast for a couple of weeks until Tyson's friend Danny Bryson was brought onboard. The show was retooled as "News AF (Actual Factual)" and focuses specifically on various news items that came up during the week.
Other Facts
Edit
Rob, Tyson, and Danny discussing T-Mobile offering stock and "toiling in the galactic salt mines" was featured on the "Counting Down the Top 10 Funniest RHAP Moments of 2016" end of the year podcast.
Listener Matt Rubio compiled a list of the Top 50 News AF segments at the end of 2016.[1]
References
Edit
External Links
Edit
Ad blocker interference detected!
Wikia is a free-to-use site that makes money from advertising. We have a modified experience for viewers using ad blockers

Wikia is not accessible if you've made further modifications. Remove the custom ad blocker rule(s) and the page will load as expected.