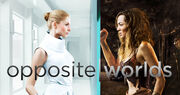 Opposite Worlds is an American reality game show that premiered on January 21, 2014 on the cable channel Syfy. The series revolves around a group of strangers living in a house that is divided by a "future" and "past" theme. The contestants are divided into two teams, and compete in weekly challenges to determine where they will live. One contestant, known as the Decider, selects two contestants to compete in a challenge, with the loser being eliminated from the game. The winner of the series, determined after six weeks, will win a $100,000 prize.
RHAP covered Opposite Worlds after each episode of the first week, then weekly recap podcasts thereafter. Frequent guests include RHAP Tabulator Curt Clark and Big Brother live feed correspondent Brian Lynch, who appeared to report on the live online feed of the show. Rob also conducted exit interviews with a few of the players after their respective eliminations.
List of Podcasts and Guests
Edit
NOTE: Rob Cesternino appeared on every podcast.
January 17, 2014 - Talking with the Host of SyFy's 'Opposite Worlds' & Much More: Luke Tipple
January 21, 2014 - LIVE Recap of the 'Opposite Worlds' Series Premiere: Curt Clark
January 22, 2014 - LIVE Opposite Worlds Episode 2 Recap After the Elimination: Curt Clark, Brian Lynch
January 24, 2014 - Podpourri: Gervase, Opposite Worlds Rachel, King of the Nerds: Rachel Lara
January 29, 2014 - Recapping the Second Week of SyFy's Opposite Worlds: Brian Lynch
January 31, 2014 - Talking with the Latest Player Eliminated from Opposite Worlds: Wyatt Werneth
February 5, 2014 - The LIVE Opposite Worlds Week 3 Recap: Curt Clark, Brian Lynch
February 12, 2014 - LIVE Opposite Worlds Recap After Week 4: Curt Clark, Brian Lynch, Ian Terry
February 19, 2014 - Opposite Worlds Week 5 Recap with Tuesday's Evicted Player: Curt Clark, Brian Lynch, Steve DiCarlo
March 1, 2014 - Opposite Worlds Finale Recap: What Worked & What Didn't Work This Season: Curt Clark
References
Edit
External Links
Edit
Ad blocker interference detected!
Wikia is a free-to-use site that makes money from advertising. We have a modified experience for viewers using ad blockers

Wikia is not accessible if you've made further modifications. Remove the custom ad blocker rule(s) and the page will load as expected.