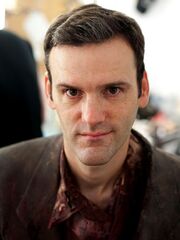 Dalton Ross is a journalist for Entertainment Weekly and frequent guest on RHAP.
Dalton currently writes for the pop culture magazine Entertainment Weekly. He is most well-known for his coverage of Survivor, The Celebrity Apprentice and The Walking Dead.
RHAP Appearances
Edit
First Appearance: October 29, 2010[1]Edit
Dalton first appeared on RHAP after the seventh episode of Survivor: Nicaragua. He talked about his recently-released podcast The TV Insiders, as well as where Nicaragua falls in his all-time seasons ranking.
Second Appearance: May 19, 2011[2]Edit
Dalton and Rob discussed the recently-wrapped Survivor: Redemption Island and Celebrity Apprentice 4. They answer a number of questions, including:
Where does Dalton Ross think that Survivor Redemption Island places on his ranking of 22 Survivor seasons? Did Boston Rob's win affect Dalton's ranking?
Does Dalton Ross think that Survivor's move to Wednesday helped the longevity of the show?
How does Dalton Ross rank the four seasons of the Celebrity Apprentice?
How many more seasons does Dalton Ross think Survivor will go?
Third Appearance: February 9, 2012[3]Edit
Dalton appeared on the podcast to preview the upcoming seasons of both Survivor: One World and Celebrity Apprentice 5.
Fourth Appearance: October 15, 2012[4]Edit
Dalton and Rob previewed the newly-released cast for All-Star Celebrity Apprentice, including their thoughts on who got snubbed. Dalton also briefly talks about his pre-game experience during Survivor: Philippines.
Fifth Appearance: June 11, 2014[5]Edit
Having recently returned from his visit to the set of Survivor: San Juan Del Sur, Dalton talked to Rob about his experience, as well as the twists coming to the new season. He also officially ranked Survivor: Cagayan on his all-time seasons ranking.
Sixth Appearance: February 12, 2015[6]Edit
Dalton and Rob talked about the Survivor franchise going into its 30th season and previewed the format of the upcoming Survivor: Worlds Apart. They also talked about the currently-airing season of The Celebrity Apprentice, as well as random tangents about Better Call Saul and The Walking Dead.
Other Appearances and Facts
Edit
Dalton served as a co-host of Reality Gamemasters, sitting on the sidelines and providing commentary to the action with Rob Cesternino.
Dalton is the creator of the video series "Survivor Talk", which features exit interviews and pre-taped bits with former players. The series disappeared for quite some time, but returned for Survivor: Cambodia. Dalton had Rob on an episode of "Survivor Talk" on October 1, 2015.[7]
Dalton was one of the cohosts of the aftershow Survivor Live with former player Jenna Morasca from seasons 10 to 14.
References
Edit
External Links
Edit