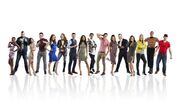 Description
Edit
Big Brother Canada 5 was the fifth season of the series and also of coverage on RHAP. The format closely followed that of the American version of the show with major additional twists mixed in including allowing the Canadian audience to influence the game heavily via voting. For this season, 8 new houseguests faced off against 8 Big Brother Canada veterans, looking for a chance at redemption. This season also marks the first full season covered by Melissa Deni, who won the "So You Think You Can Podcast" competition at the end of Big Brother: Over the Top.
Big Brother Canada 5 coverage consisted of live shows done usually after each episode. Rob Cesternino would cover the Monday episode with two members of the LFC, while Jordan Parhar would cover the Wednesday episode and Thursday live eviction, often with some combination of the LFC and a Big Brother Canada alumnus. Rob also did exit interviews with the recently evicted, usually released on Fridays. Additionally, the LFC began their own weekly Sunday podcast beginning in Week 5, recapping the feeds up to that point. Due to this season airing at the same time as Survivor: Game Changers, Big Brother Canada 5 coverage showed only in the Big Brother and Reality TV RHAP-Ups feeds, as opposed to the main feed from previous seasons. This season also marked the final season covered on the Reality TV RHAPpy Hour, as Parhar would leave podcasting in order to focus on his schooling and career.
List of Podcasts and Guests
Edit
NOTES: Rob Cesternino appeared on every Monday podcast and exit interview podcast. Jordan Parhar appeared on every Wednesday and Thursday podcast except for both podcasts in Week 2, the Thursday podcast for Week 4, the Wednesday podcast in Week 5, the Thursday podcast in Week 7, and the Wednesday and Thursday podcasts in the Finale.
Preseason
Edit
March 8, 2017 - Cast Reveal Podcast Interviews Part 1: Rob Cesternino, Neda Kalantar, Kevin Martin, Gary "Glitter" Levy, Bruno Ielo, Andre "Dre" Gwenaelle, Mark Chrysler, William Laprise Desbiens, Emily Hawkin
March 9, 2017 - Cast Reveal Podcast Interviews Part 2: Rob Cesternino, Ika Wong, Dallas Cormier, Sindy Nguyen, Cassandra Shahinfar, Demetres Giannitsos, Karen Singbeil, Dillon Carman, Jackie McCurrach
March 9, 2017 - Big Brother Canada 5 Cast First Impressions: Jordan Parhar, Taran Armstrong, Alex Kidwell, Brent Wolgamott
March 13, 2017 - Big Brother Canada 5 Pre-Season Draft : Jordan Parhar, Taran Armstrong, Melissa Deni, Alex Kidwell, Brent Wolgamott
March 15, 2017 - Big Brother Canada 5 Premiere Recap: Taran Armstrong, Melissa Deni, Alex Kidwell, Brent Wolgamott
March 16, 2017 - Big Brother Canada 5 Eviction Recap | Mitch Moffit: Mitch Moffit, Taran Armstrong, Alex Kidwell
March 17,2017 -  Big Brother Canada 5 Exit Interview | Latest Houseguest Voted Out – March 17, 2017: Mark Chrysler, Alex Kidwell
March 21, 2017 - Big Brother Canada 5 Update from NYC | Podcast House 3.0: Jordan Parhar, Taran Armstrong, Alex Kidwell
March 22, 2017 -  Big Brother Canada 5 Wednesday Recap : Liana Boraas, Jon Krause ,  Melissa Deni, Brent Wolgamott
March 23, 2017 -  Big Brother Canada 5 Eviction Recap : Pooya Zand Vakili, Melissa Deni, Brent Wolgamott
March 24, 2017 - Big Brother Canada 5 Exit Interview | Latest Houseguest Voted Out – March 24, 2017: Dallas Cormier
March 27, 2017 - Big Brother Canada 5 | Monday Episode Recap & Live Feeds Update: Taran Armstrong, Brent Wolgamott
March 29, 2017 - Big Brother Canada 5 Wednesday Recap LIVE with Allison White: Allison White, Alex Kidwell
March 30, 2017 - Big Brother Canada 5 Eviction Recap | Johnny Colatruglio: Johnny Colatuglio, Taran Armstrong
March 31, 2017 - Big Brother Canada 5 Exit Interview | Latest Houseguest Voted Out – March 31, 2017: Cassandra Shahinfar, Alex Kidwell
April 3, 2017 - Big Brother Canada 5 | Monday Episode Recap & Live Feeds Update: Taran Armstrong, Melissa Deni
April 5, 2017 - Big Brother Canada 5 Wednesday | Willow MacDonald: Willow MacDonald, Alex Kidwell
April 6, 2017 - Big Brother Canada 5 Eviction Recap: Taran Armstrong, Melissa Deni, Brent Wolgamott
April 7, 2017 - Big Brother Canada 5 Exit Interview | Latest Houseguest Voted Out – April 7, 2017: Gary Levy, Alex Kidwell
April 9, 2017 - Big Brother Canada 5 Live Feeds Update | Sunday, April 9, 2017: Taran Armstrong, Melissa Deni, Brent Wolgamott
April 12, 2017 - RHAPpy Hour | Big Brother Canada 5 Wednesday Recap: Taran Armstrong, Alex Kidwell, Brent Wolgamott
April 13, 2017 - BBCAN5 Eviction Recap | Ashleigh Wood, Pili Nemer and Sarah Miller: Ashleigh Wood, Pilar Nemer, Sarah Miller, Melissa Deni
April 17, 2017 - Big Brother Canada 5 Double Exit Interview | Latest Houseguest Voted Out – Apr 17, 2017: Emily Hawkin, Neda Kalantar
April 16, 2017 - Big Brother Canada 5 Live Feeds Update | Sunday, April 16, 2017: Taran Armstrong, Melissa Deni, Alex Kidwell, Brent Wolgamott
April 17, 2017 - Monday April 17 Recap & Live Feeds Update: Taran Armstrong, Brent Wolgamott
April 19, 2017 - Big Brother Canada 5 Wednesday April 19 Recap | Naeha Sareen: Naeha Sareen, Alex Kidwell
April 20, 2017 - BBCAN5 April 20 Eviction Recap | Joel Lefevre: Joel Lefevre, Melissa Deni
April 21, 2017 - Big Brother Canada 5 Exit Interview | Latest Houseguest Voted Out – Apr 21, 2017: Sindy Nguyen
April 23, 2017 - Big Brother Canada 5 Live Feeds Update | Sunday, April 23, 2017: Taran Armstrong, Alex Kidwell, Brent Wolgamott
April 24, 2017 - Big Brother Canada 5 | Monday April 24 Recap & Live Feeds Update: Taran Armstrong, Alex Kidwell
April 26, 2017 - Big Brother Canada 5 Wednesday April 26 Recap: Melissa Deni, Brent Wolgamott
April 27, 2017 - BBCAN5 April 27 Eviction Recap: Taran Armstrong, Melissa Deni, Brent Wolgamott
April 28, 2017 - Big Brother Canada 5 Exit Interview | Latest Houseguest Voted Out – Apr 28, 2017: Bruno Ielo
April 30, 2017 - Big Brother Canada 5 Live Feeds Update | Sunday, April 30, 2017: Taran Armstrong, Alex Kidwell, Brent Wolgamott
May 1, 2017 - Big Brother Canada 5 | Monday May 1 Recap & Live Feeds Update: Melissa Deni, Brent Wolgamott
May 3, 2017 - Big Brother Canada 5 Wednesday May 3 Recap | Godfrey Mangwiza: Godfrey Mangwiza, Brent Wolgamott
May 4, 2017 - BBCAN5 Triple Eviction Recap: Taran Armstrong, Melissa Denni, Alex Kidwell
May 5, 2017 - Big Brother Canada 5 Triple Exit Interview | Latest Houseguests Voted Out – May 5, 2017: Jackie McCurrach, William Laprise Desbiens & Dre Gwenaelle 
May 7, 2017 - Big Brother Canada 5 Live Feeds Update | Sunday, May 7, 2017:  Taran Armstrong, Melissa Deni, Alex Kidwell, Brent Wolgamott
May 8, 2017 - Big Brother Canada 5 | Monday May 8 Recap & Live Feeds Update: Taran Armstrong, Brent Wolgamott
May 10, 2017 - Big Brother Canada 5 Wednesday May 10 Recap : Melissa Denni
May 10, 2017 - Big Brother Canada 5 Interview | Host Arisa Cox & Exec Producer Erin Brock: Arisa Cox, Erin Brock 
May 11, 2017 - Big Brother Canada 5 | Eviction Recap LIVE from TORONTO: Taran Armstrong, Alex Kidwell, Brent Wolgamott
May 14, 2017 - Big Brother Canada 5 Live Feeds Update | Sunday, May 14, 2017: Taran Armstrong, Alex Kidwell, Brent Wolgamott
May 15, 2017 - Big Brother Canada 5 | Monday May 15 Recap & Live Feeds Update: Jordan Parhar, Alex Kidwell
May 17, 2017 - Big Brother Canada 5 | Wednesday May 17 Recap: Taran Armstrong, Melissa Deni, Brent Wolgamott
May 18, 2017 - Big Brother Canada 5 | Thursday May 18 FINALE Recap : Taran Armstrong, Melissa Deni, Alex Kidwell, Brent Wolgamott
May 19, 2017 - Big Brother Canada 5 | Final 4 Exit Interviews – May 19, 2017: Ika Wong, Demetres Giannitsos, Karen Singbeil, Kevin Martin
PostSeason
Edit
June 21, 2017 - Big Brother Canada 5 | Winner Kevin Martin Interview: Kevin Martin, Taran Armstrong, Alex Kidwell
Other Facts
Edit
References
Edit
External Links
Edit