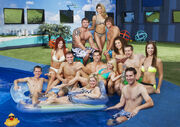 Big Brother 12 was the first season of coverage for RHAP. The season featured the Saboteur twist and lasted 75 days.
List of Podcasts and Guests
Edit
NOTES: Rob and Nicole Cesternino appeared on every podcast of the season.
Episode 1
Edit
July 10, 2010 - Who is the Big Brother Saboteur?
Episode 2
Edit
July 20, 2010 - The Showmantic HOH-Its All About Rachel
Episode 3
Edit
July 27, 2010 - How Big Brother 12 Became The Matt Show
Episode 5
Edit
August 14, 2010 - Showmance Problems on Big Brother & Jersey Shore
Episode 6
Edit
August 22, 2010 - Diamond Drama on Big Brother/Jersey Shore
Episode 7
Edit
August 25, 2010 - Princess Britney Becomes the Queen
Episode 8
Edit
September 2, 2010 - Big Brother: Lane Socks it to the Brigade
September 18, 2010 - Wrapping up the Big Brother Finale
Other Facts
Edit
References
Edit
External Links
Edit